There are a lot of presuppositions and myths about anal sex: Men want it more. It's not pleasurable for her. Everyone's doing it apart from you. There's no such thing as an anal orgasm. So on and so forth.
These sex myths are demonstrably untrue; all they do is expose the fact that people don't talk about anal sex (oral, penetrative, or otherwise) well enough, because it's still relatively taboo in mainstream conversation.
But why should this be? As part of a loving relationship, or even as part of a brief and hot encounter, anal sex has a lot to offer. Not to mention, the relative taboo nature of anal is part of its appeal for many participants.
There are two tricky obstacles to overcome. First, how do you initiate it when you want it and second, how do you make anal sex more enjoyable for both partners?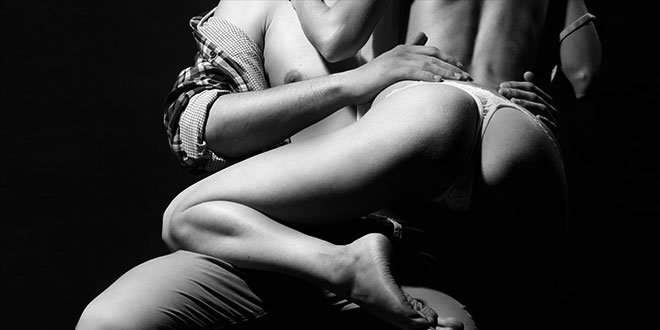 Initiating Anal Sex: Receiving
When you decide you're ready to receive anal sex, you need to be in control of it from start to finish. That means you need to make it obvious that you want it, because your partner might be too uncertain to initiate it without your express permission.
The easiest way to tell your partner you want anal sex is, well, to tell them you want anal.
Many people aren't so good at picking up dropped hints or reading the subtlety of your body language, so telling them directly and explicitly that you want it is the only failsafe approach, plus it means you're able to talk about things like possible boundaries, previous experiences, etc.
Now, there are two ways to go about this. You can ask your partner explicitly while you're already having sex, which many people might find feels more comfortable and natural. However, it doesn't exactly make it easy to have an extended conversation about the aforementioned boundaries or reservations you may have if you're an anal sex beginner.
You can bring it up before hand through flirty texting or emailing, which certainly sets up the anticipation, however it does have two possible drawbacks: one, you may no longer be in the mood when it comes to it, and two, they might think that's all you want, so they'll focus on that and leave the rest of your body wanting.
Another approach, particularly as you get more comfortable with anal sex, is to tell your partner by showing; start with self stimulation (or guiding your partner's hand) or using a small vibrator made for anal play (ie: has a flared base).
If you're trying pegging for the first time and your partner is not used to thrusting, this is a great time to talk about how you usually have sex, and what you think could work and what wouldn't.
Initiating Anal Sex: Giving
Does anal sex hurt? Yes, it can. But is anal sex pleasurable? Yes, potentially. But you need to approach it… sensitively.
It should go without saying, but if your partner hasn't initiated it or said outright that they are open to trying anal sex, you need to ask.
Generally speaking, anal stimulation during sex can be somewhat divisive, and 'just going for it' is not okay.
So exactly as above, there are several options available: ask them directly during sex or foreplay, bring it up beforehand via text or email, or show your partner what you want by paying their butt some extra attention during foreplay and gauging the reaction.
One of our favorite sex positions for initiating anal sex is in the spooning position. You're both comfy and relaxed with all bodyweight is supported. Then pull out of her and rub yourself against them; they'll quickly acknowledge whether it's ok or not without having to break the mood.
But remember, there are no shortcuts and nothing beats good, honest bedroom communication – and good dirty talk does count as good communication.
Make Anal Sex More Pleasurable
While there are those rare times that, like stars aligning, the mood will strike both of you simultaneously and you'll have the most incredible and satisfying anal sex imaginable, usually there is some preparation required.
Remember that if you're receiving anal sex (of the penetrative or oral-anal variety), you need to be in control of it, to whatever degree you want. You will need to control the speed and he will need to listen to you, otherwise it will be uncomfortable and it will stop. The opportunity might be lost until some trust can be rebuilt.
Here are 4 things to try to help make anal sex better.
Check this out: Blended Orgasms – What, How and Why?
To Sum Up
The most important part of enjoying better anal sex, or any kind of sex for that matter, is talking. The most sensitive erogenous zone is between the ears, stimulate that one and the sex will always be mind-blowing.
Still Curious? You can read more expert articles about anal sex or go back to our Ultimate guide to everything about anal.