There are a few things that masturbation and music have in common – our favorite is the climax. Check out our favorite women singing about "getting off" below. Men have been singing about masturbation for decades, and we bow down to these ladies who had the "balls" to join them. Warning: may cause extreme arousal. You're welcome, babes.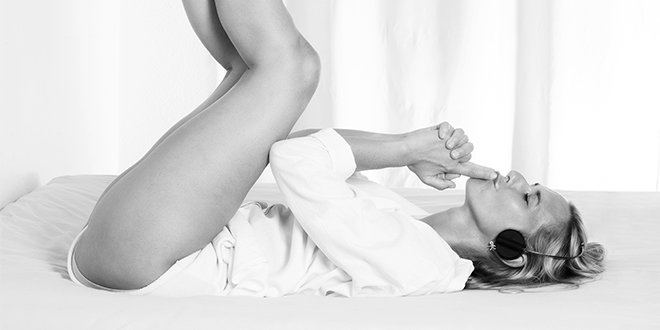 Macy Gray – B.O.B.
Want to guess what B.O.B. stands for? 
B – is for Battery, 
O – Operated,
B – is for Better, cause he's not complicated.
Yep, you heard that right. This song is all about a vibrator. I mean, if we're going to write a million songs about heartbreak, why not write one about the thing that mends it all with pleasure. Give the video a watch too, it's actually super catchy and all about loving yourself. Plus, there's nothing cuter than a cartoon dildo.
The Pussycat Dolls – I Don't Need A Man
I don't need a man to make it happen,
I get off being free.
The Pussycat Dolls were a notable symbol of female empowerment in the early 2000s. Their song "I Don't Need A Man" is about exactly what you'd expect, being able to do it all on your own. Despite a somewhat controversial breakup, the group is still considered one of the best-selling girl groups of all time according to Billboard and VH1 Music. They also have a ton of other sexy songs like "Buttons" and "Don't Cha."
Tweet – Oops (Oh My) ft. Missy Elliott
I was looking so good I couldn't reject myself.
I was feeling so good I had to touch myself.
These women of Hip Hop bring the heat talking about taking off their clothes and caressing their thighs. Missy Ellliott has always been that artist that has always kept it 100% real. Real enough to challenge gender stereotypes, real enough to address controversy, and real enough to talk about pleasure. On top of that, she's a creative genius. Yes, we have a girl crush on Missy, but we'll give Tweet some credit too since it's technically her song.
Cyndi Lauper – She Bop
They say I better stop – or I'll go blind
Oop – she bop – she bop
Did you expect any less from the singer whose biggest hit was "Girls Just Wanna Have Fun"? This single, recorded in 1984, landed itself on the Parents Music Resource Center's Filthy Fifteen list beside Madonna and Prince due to its subject matter (this same list led to the creation of the Parental Advisory sticker.) The video is about as 80s as it gets, including her steaming up her car solo with a Beefcake magazine, a rumbling motorcycle that offers some 'good vibrations', and Cyndi with a white cane and glasses (gangster AF).
Lady Gaga – Sexxx Dreams
When I lay in bed I touch myself and think of you
This track technically deals with quite a few things; masturbation, infidelity, and titular sex dreams, but we think we can all agree that the best thing about dreaming of a crush 'doing really nasty things' is thinking about it again later. While the song is quite open about her fantasy, the line where she admits, "I can't believe I'm telling you this, but I've had a couple drinks" takes us back to that shy (but definitely sexy) girl feeling about sharing dirty secrets.
Pink –Fingers
I bite my tongue because I wanna scream
I'm almost there then you turn and look at me
When it's late at night and you're fast asleep
I let my fingers do the walking
A shamefully overlooked track from the 2007 album I'm Not Dead, "Fingers" uses Pink's throaty vocals to advantage as it describes how she's 'starving for some attention' and needs more than her partner is going to give. What's her solution? To let her fingers do the walking, of course. Those same fingers stop to hit record, so her partner can 'rewind and see' why she's so happy in the morning. Oh, and if you're looking for a toy that's extra discreet (hey, sometimes we want to let our partner sleep), then may we recommend the tiny but powerful MIA  2?
FKA Twigs – Kicks
When I'm alone/I don't need you
I love my touch/ Know just what to do
We could not sing enough praises for this London-based performer's first full-length album LP1. FKA Twigs blends dark, slow beats with her breathless and magnetic vocals to create something that is previously unheard of, and incredible sexy. The album explores various themes surrounding sex and relationships, and "Kicks" is a trippy, ethereal look at a woman asking herself, 'what do I do when you're not here?' Well, baby, it's clear.
Hailee Steinfeld – Love Myself
Pictures in my mind on replay
I'm gonna touch the pain away
I know how to scream my own name
Honestly, you should set this song as your alarm in the morning. It's climactic and empowering and the non-annoying type of boost you need to get out of bed and start kicking ass. Hailee preaches about self-providing, and while that may come off as non-committal in regards to the masturbation message, her 'self service' shirt in the video speaks for itself.
Before You Go… (Have Fun)
These sex-positive ladies aren't mincing many words when it comes to their self pleasure, though they may not be explicitly stating what instrument they use to get there (you can check out Missy Elliots "Toyz" for that; it's practically a jingle for sex toys.) If you're looking for new inspirations for bumping to the beat, check out these different types of sex toys.
Comment your favorite masturbation songs below. We're all about sharing kinky thoughts and rhythmic fantasies. Tune in next time for the next orgasmic playlist.