Oh, the wonderful world of sex toys! How we cherish our self-care sessions, filled with passionate lust and gorgeous orgasms! And don't forget partnered play… equally as delicious and satisfying!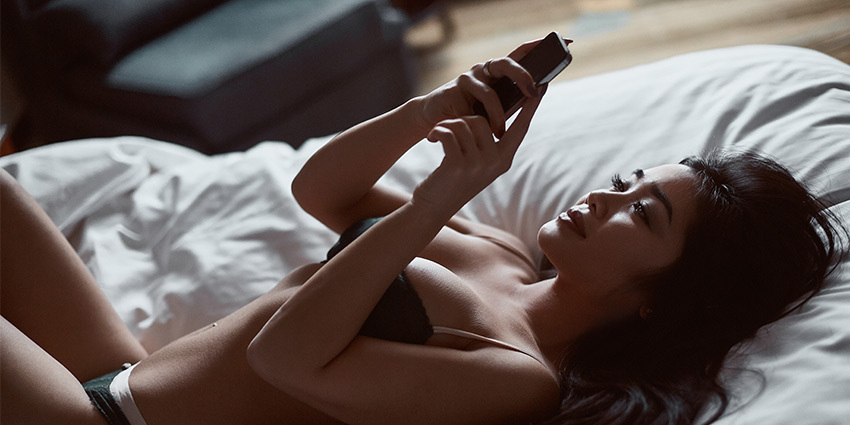 This is why we're continuously bringing you new and more sextech-savvy toys that'll rock your world (like the new LELO ENIGMA! Have you seen it yet? You should!).
Today, however, we're shining some light on a different line of sex toys! That is our sister brand, PicoBong, and their Remoji pleasure products. 
These sultry sex toys are all about shaking things up with funky colours, enhanced arousal, and the ability to control your orgasms from your phone using their app! 
So if you're looking for a different kind of thrill when it comes to your orgasms—a thrill inspired by eclectic hues of greatness—then the Remoji line from PicoBong is something you have to take a peek at. 
But first…
What is an App-Controlled Sex Toy?
An app-controlled sex toy is a pleasure product that can work with an accompanying app. Almost always, the company of which the app-controlled sex toy belongs to has an exclusive app that allows the toy user to connect via Bluetooth. 
Then, by opening the app on a smartphone, you (or someone else) can control all sorts of functions of the toy, like vibrational patterns and speeds.
And PicoBong is all about it!
What is PicoBong All About?
PicoBong was born in 2016 with an aim to bring uninhibited and flirty fun to anyone and everyone with absolute ease. 
This brand is all about experimentation, thinking outside of the box, and creating toys that are colourful, inclusive, and whimsical. 
And they've really managed to make a splash with their Remoji line, which can be controlled via their smartphone app.
How Do Remoji Sex Toys Work?
Straight from the horse's mouth, Steve Thomson, the CMO of PicoBong, revealed:
"We want to revolutionise sex lives by making phones part of the foreplay and not a distraction from it. Just imagine using the app, paired up with a sex toy, out in public at a restaurant or club. You can be playing with the app and no one will realise you're actually controlling a sex toy; they will all think you're just playing a game."
A game? Well, that's actually all part of the fun!
You see, the Remoji app actually uses an emoji-like character to run the show, making it essentially inconspicuous to those who're unfamiliar with the likeable cartoon. 
Then, the one controlling the app can tap, swipe, and poke the emoji who then dances to the music which, in turn, controls the vibrational patterns and intensities of the connected toy. Sounds like quite a hoot, right? (FYI: a 2019 survey revealed that those who use emojis have more sex!)
"Music, emojis and sex. No, even better; music emojis and public sex," read the press release. 
Basically, the Remoji toys are interactive, music-inspired, and aim to please with four different products. 
Want to meet these delicious creations?
4 Remoji App Controlled Sex Toys: There's Something for Everyone!
For anal enthusiasts, the SURFER Plug Vibe is all about creating exciting, adrenaline-inducing waves of pleasure! It comes with a sexy bulbous tip for teasingly erotic insertion, and a flared base, making it easy to remove. It's got six different vibration patterns, comes in three different colours, and is 100 percent waterproof! Simply download the Remoji app, connect it via Bluetooth, and start surfing!
Take a dive into the unknown and be rewarded with pleasure as good as gold! The Remoji DIVER Egg is a sleek yet cheeky G-spot vibe with a long cord, making it super easy to remove. It's curvy and luscious, ready to make an absolute splash in or out of water—yep, it's 100 percent waterproof! Want to play?
Couples' rings (more commonly known as 'penis rings' or 'c-rings') are great for a number of reasons! They have the power to induce stronger and more powerful erections, they assist those living with erectile dysfunction, and they're just good fun to use… especially when the vibrations tease and please both partners. Either way, the Remoji LIFEGUARD will ensure that you're never left in the deep end! It's a one-size-fits-all, waterproof, stretchy silicone couple's ring that'll take you on one heck of a ride!
A vibrating masturbation cup that's generously lined on the inside for extra stimulation, yet sleek and smooth on the outside, you'll never have to come up for air! This m-cup is perfect for men who've never dived into the world of sex toys, yet just as tantalising for regular toy users! It's easy to clean, spices up your solo sessions, and could even be used during oral!
So, whether you're paddling, surfing, swimming, or diving, there's a PicoBong Remoji app-controlled toy waiting to boast its sexual prowess!