Wand massagers are famous for their power, but often limited by their design – but not the SMART WAND Medium and SMART WAND Large. With a cordless, waterproof design, the only limit to your pleasure is your own imagination! This massager is high-powered yet quiet to give you the best indulgence without disruption. Plus, everybody loves a good all-over body massager, so don't be afraid to leave this on the coffee table for when you're feeling anything from sore to horny (or sore from acting upon your horniness).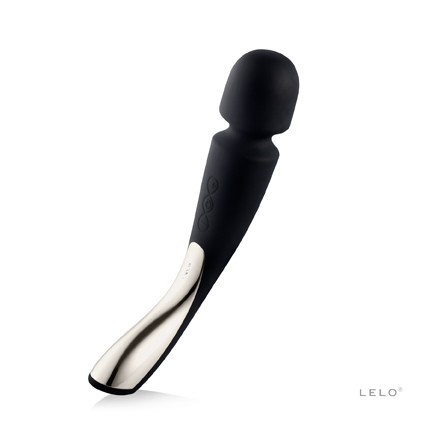 What's the difference in size? SMART WAND Large is about 20% larger than SMART WAND Medium (220mm / 8.7in. compared to 304mm / 12in.). The newest addition to the family, SMART WAND 2, is relatively the same size as the SMART WAND Large, but also has some added bonus features.
LELO SMART WAND
"The deep vibrations penetrated deep into the muscles, and I found it worked best at about half way through the speed settings. Afterwards, I was left feeling incredibly relaxed, and ready to try it out in more… interesting ways…
The same can be said when I used it on the Mr. The Smart Wand, much like the Doxy, was able to coax an orgasm out of him like it was nothing. And I got to say, it's incredibly arousing watching him squirm as those vibrations penetrate deeply. The best part, though, was when I set the Smart Wand onto the FUCKING CRAZY MODE. The sounds he was making were almost guttural and animalistic. Amazing."
Read more of THEBIGGAYREVEIW's review!
LELO Smart Wand Large
"The toy's vibrations work exceptionally well for deep body massage, and have worked wonders on my muscular knots, which normally can only be remedied by a vigorous, and sometimes painful, manual massage by a third party. Instead the rumbly vibrations quickly, effortlessly, and painlessly shake any aches away. On occasion I found that using the vibrator over the fabric of my underwear was more comfortable than direct contact – just remember the fabric will dampen the vibrations and produce a muffled rumbly sensation.
Cleaning the wand is effortless. Unlike other wand vibrators, which have lots of nooks and crannies around their neck and head, electrical cords, or air vents on their body, the Lelo Smart Wand has none of these."
Read more of NYMPHOMANIACNESS's review!
LELO SMART WAND Medium: the white magic of pleasure
"The Smart Wand's magic power is to transport you to another planet without you doing anything: the journey to pleasure starts pressing the + button and making yourself comfortable.
The Smart Wand Medium's reduced size is also perfect for the pleasure pursuit along with a travel companion. Hold it between you and the mattress while you're facedown, or between yours and you partner's body to multiply the feelings of pleasure."
Read more of LESEXENROSE's review!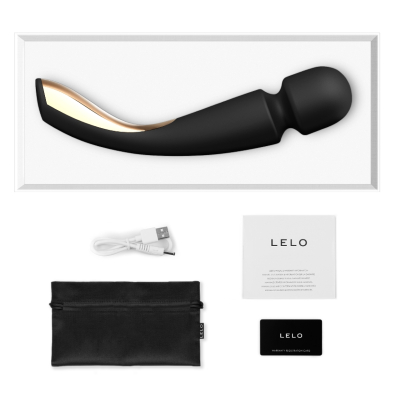 REVIEW: LELO SMART WAND LARGE MASSAGER
"When I used the wand on my nipples, the sensation in medium to high setting was really amazing, and usually I don't get very much nipple play from actual vibrators. Using it down-below, well!! In the highest vibration this toy is INTENSE and quite amazing. I went from 0 to DONE in the space of quite literally 2 minutes.
Obviously you don't have to use this sensual massager as a sex toy, but you'd be missing out if you didn't!"
Read more of XTRACURRICULAR's review!
LELO Smart Wand Large Vibrator Review
"This large wand is absolutely perfect for quick orgasms whenever I wish, around the house; or using as part of intimate foreplay and pre-sex fun with my partners. The Medium Smart Wand is fantastic to stash in a bag for overnight trips or you could even have the Large Wand under the bed and the Medium Wand in the bathroom."
Read more of CARASUTRA's review!
Review: LELO Smart Wand Large
"The best way that I could take advantage of this as a sex toy is to use it on the underside of my glans by the frenulum. This is [usually] the most sensitive part of the penis for [most] guys.
As a personal preference, I like to not climax immediately; because of this, I have to use the wand on the middle settings. If I used the wand on the highest setting, I can probably orgasm in less than 30 seconds."
Read more of UNCHASTERAY's review!
The LELO Smart Wand 2 Is The Vibrator To End All Other Vibrators
"When it comes to bigger being better, I have not always been a believer. There's nothing wrong with small and powerful—plus, hey, who doesn't love an underdog rising to the occasion? That said, all it took was one use of the LELO Smart Wand 2 vibrator to change my mind. This thing is massive, and you know what? I had a massively good time using it."
Read more of STYLECASTER's review!
Customer Reviews
Check out more Bazaarvoice authenticated LELO reviews, supported by anti-fraud technology and human analysis.
Mind blowing and toe curling orgasm ★★★★★
The wand my my girlfriends toes curl before she exploded in a mind blowing orgasm. I highly recommend the wand
Posted by: Anonymous
Versatility Plus ★★★★★
Takes care of it all ! Sore muscles, tight muscles and those very special places.
Posted by: Happy 37
Delicious ★★★★★
I've had the wand for a month or two now and have been MOST pleased with my new gift. Lots of settings to choose from, highest setting is intense. I can take myself on a journey or give myself a quicky, even better bringing it into sex with my partner. Win win.
Posted by: Kate1111
How To Use SMART WAND