We believe that all the buzz surrounding vibrators are completely valid, and that these nifty sex toys deserve the spotlight. They're great for all kinds of occasions… like solo play, couples fun, intense foreplay, and more, making them a versatile treat in the bedroom.
And if you're somewhat intimidated by the appearance of a vibrator, we've totally got you. Today, you can even buy a vibrator that looks like a lipstick holder! So, there's just no excuse not to have one or more of these lovely inventions in your nightstand!
On the other hand, perhaps you're not at all intimidated by them, and you'd love to start using them during play time with a partner… fair! The first step? Ask and you shall receive!
Note: this article has been written in such a way that it is addressed to heterosexual women, yet is informative for both men and women.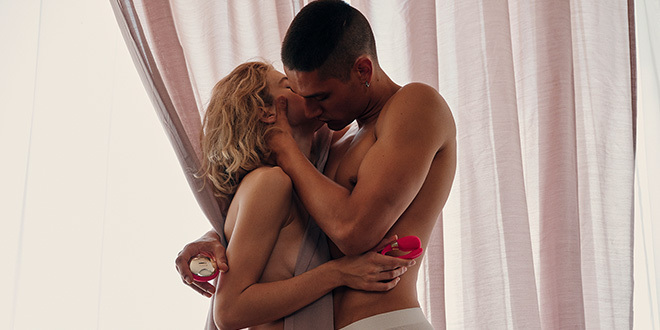 Talking to Your Partner About Using a Vibrator During Sex
There are some folk who find vibrators off putting, especially men. They may feel somewhat emasculated by them, or inadequate because a woman wants to bring a vibrator into the mix.
As sex expert, Dr. Kat Van Kirk, Ph.D says, "One partner may fear that another partner's use of a sex toy will replace them or that they'll become overly reliant on them for arousal and/or orgasm."
So, how could one fix this issue? Positive communication. Before you whip out your fave toy, you're probably going to want to chat to your partner first. 
A great start would be to allow them to talk to you about their concerns and insecurities, and reassure them that using a vibrator is in no way linked to their ability to perform. 
Frankly, the whole concept of feeling 'less than' is kind of absurd, as a scientific study found that 75 percent of women don't achieve orgasm during intercourse alone. Men, on the other hand, are way more prone to orgasm during penetrative sex. 
Conclusion? It is quite literally the notion of 'it's not you, it's me', and a vibrator in the bedroom just makes sense. In fact, men can experience blissful nights too when inviting a vibrator to join in!
But don't just take our word for it! David Freerick, Ph.D, conducted a study in 2016 that says that men and women who were satisfied in their relationship and with their sex life were more likely to use sex toys together.
So at the end of the day, what has the power to enhance foreplay, and sex, exponentially? Vibrators!
5 Different Ways You Can Use a Vibrator During Foreplay
Once you and your partner are on the same page, you've got your favourite toy(s), and you're ready to rock n' roll… what's next? Let us inspire you on the best ways for her and him to use a vibrator during foreplay … 
1. Getting Warmed Up
The whole idea behind foreplay is to get warmed up and to feel sexually aroused. And both men and women have a few erogenous zones that, when stimulated, can create incredible sensations, aiding in arousal. Which is why you can target these erogenous zones using a vibrator.
You can turn it on to a low setting and simply run it over their body to find a spot that really tickles their fancy. As the pleasure builds, you can move it towards their intimate parts, over the underwear, which will most certainly get the party started.
2. Giving Head
Ask just about any man what he thinks of a blowjob and they'll probably say it's absolutely fantastic. Ask just about any man what he thinks of receiving a blowjob whilst feeling the vibrations of a vibrator however, and they'll almost definitely say it's out of this f-ing world. 
To do this, you can go ahead as normal, but whilst doing so, hold the side of a vibrator against your cheek as you slide up and down. This will give him a whirlwind of sensations… such as the wetness of your mouth, different kinds of pressure, and vibrations.
And when it comes to your pleasure, he can go down on you, focusing on the clitoris, while inserting a vibrator to stimulate the g-spot. Double pleasure equals double the fun.
3. Fun in Unknown Places
Despite the fact that we've been talking about using a vibrator in the bedroom up until this point, there's an even more thrilling way to make use of this sex toy. That is, in a public space. 
No, we don't mean packing it in your handbag or shoving it into your pocket the next time you're at the Chinese buffet. We mean a remote-controlled vibrator. 
There are tons of bullet vibrators that can be inserted into the vagina, and controlled by a partner at their discretion. Depending on the type of remote controlled vibrator you use, you can change the vibration pattern and the intensity. Next dinner date shenanigans, sorted!
4. Getting Him On-Board… to Get Off
To think that all this time, people all over the world believed that a vibrator was a sex toy solely for women! No, no, no! 
Want to blow his mind so he can blow his load? Grab your vibrator and stimulate his perineum… that is the area between the anus and the scrotum. 
Use your toy on a low setting and glide it over the area. This will bring about intense pleasure due to the fact that it is so near to the internal prostate gland. 
You could also start stroking him as you do this, which could lead to one intense orgasm, or possibly even multiple.
5. Mutual Masturbation or Solo Play
Another nifty trick for the bedroom would be for you and your partner to engage in mutual masturbation. You can grab your favorite toy and he could grab his favorite too, and you both go to town whilst watching each other.
Alternatively, it may be extremely erotic for you or your partner to simply watch the other masturbate using a vibrator. 
Either or, watching or engaging in mutual masturbation not only ensures that both partners get the sexual stimulation that they crave, but also allows for them to see what their partner enjoys.
Did you know that there are vibrators made specifically for men? Yep, And they're pretty damn fantastic too. No more feeling left out, fellas.
For sex tech enthusiasts, the F1S is a console masturbator that is paired with an app for pleasure that's controlled in the palm of your hand. It has two motors to stimulate the head and base of the shaft, and even an SDK kit for developers who want to create their own stimulation patterns.
Hugo is a friend for him that's hands-free and remote-controlled. What does it do? Massages the prostate in such a way that the orgasm experienced can be intensified by up to 33 percent. 
Don't believe us? Check out how powerful a male's orgasm can be when the prostate is stimulated! 
So! What did we learn today? That vibrators aren't just for women, and that everyone can benefit from a little vibrator-play during sexy time!