As far as sexual positions go, there's a lot to be loved when it comes to sex in the spooning position. On lazy mornings or at times when you and your partner are lying on the couch together streaming a show, spooning sex is one of those things that can organically come up, and we're thankful whenever it does.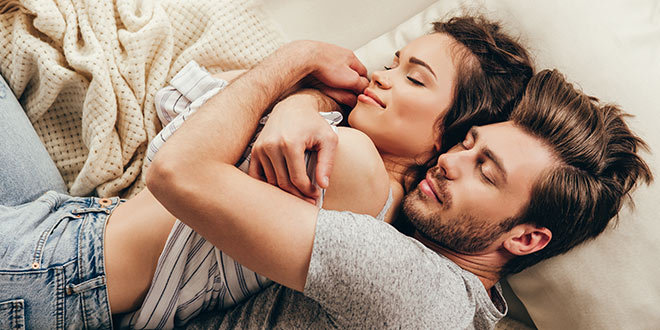 Weird thing is though, many people don't consider spooning sex to be among the best positions, citing the super-relaxed nature of it as 'lazy' and even 'unsexy' – but these people couldn't be more wrong. Here are some of the reasons that, whether you're big spoon or little spoon, the spooning sex position is great, and how you can make it even better!
Why it's so great
1: Intimacy. When done straight up, no-acrobatics or ninety-degree angles, having sex in the spooning position brings you very close, physically, to your partner. Their entire body will be against yours, and vice-versa, meaning you get the sensation of warmth and closeness from your partner all the way through.
2: G-spot stimulation. For foolproof G-spot stimulation during lovemaking, the spooning position puts the male partner's penis in just the right angle to stimulate the G-spot without having to pull off some unnatural body contortions.
Check this out: The Best G-spot Vibrators
3: Simplicity. Having sex in the spooning position is so simple, and so simply great, that it can feel like cheating. However one huge benefit of the ease is that it allows you to truly focus on the pleasure you're feeling, and the pleasure you're giving your partner.
Honestly, what's not to love about it? The best thing of all about having sex in the spoon position is that it can be made even better with a few easy tweaks, like for instance…
…take advantage of the frontal access. The big spoon is in a unique position here to be able to touch and tease so much of their partner's body, while the small spoon… can touch the big spoon's butt I guess. The onus is on the big spoon to make the most of this by teasing the nipples, stroking the breasts and torso and just generally getting handsy in the way that the small spoon will appreciate.
…hands-free humping. One beautiful aspect of having sex while spooning is that you've both got your hands free. So while the big spoon is busying himself with holding his partner's hips or teasing her breasts, the small spoon is free to pleasure herself with a small clitoral vibrator to take her pleasures to all-new heights. Depending on the level of sensation the little spoon needs, she may opt for a palm-sized vibrator that is easy to manipulate, or if they need a lot more extra 'oomph' to get them over the edge, there are always super-powered wand vibrators that pack some intense pleasures.
…foreplay is your friend. As special advice for the big spoon (male) partner, you should not forego foreplay when you're planning to have sex while spooning. Because the position is so relaxed with very little (actually no) focus on balance or weight support, it is very easy to prematurely ejaculate when you're in this position. So to make the most of what little time you might have in this position, make sure you put a special focus on foreplay to have your small spoon already halfway to climax by the time you get started.
As long as you begin your session with some stroking, kissing and definitely cunnilingus, you'll be sure that your small spoon partner will be ready for the fun to come. In fact, foreplay and spooning sex is one of them most common ways for partners to experience a simultaneous orgasm together because of all the benefits we've mentioned above.
So what are you waiting for? It's the easiest position to initiate – simply roll over to your partner and get started!