There are many that might argue against the sexiness of this season, what with the heavy meals, shopping stress and extensive family obligations… yet there are an equal number of those who can't help but get turned on by all the possibilities of tying fancy knots and sweet yet spicy canes…
Here are our most creative suggestions for getting kinky at Christmas; just make sure your safe word is easier to say than 'Good King Wenceslas!'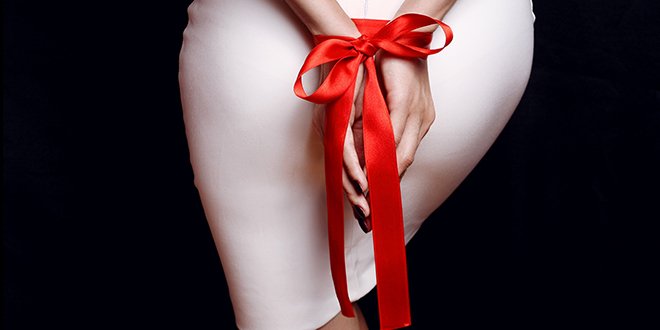 1. That's 'Madame' Claus to You
Santa Claus might be the big man around the North Pole when he's preparing to spread cheer around the world, but in the bedroom we like to imagine Mrs. Claus says what's what.
Female domination (or Femdom) can involve sissification of the submissive, or just good-old fashioned bossing around. Either way you'll want some comfy cuffs to tie up your St. Nick, so we suggest the lusciously luxe silk SUTRA Chainlink Cuffs in a seasonally appropriate red!
2. Make Your Elf Work Very Hard this Year
We're not going to delve too far into the exact working conditions elves have at the North Pole, but let's assume your elf really loves working hard during the holiday season. As in, really loves it.
There are two main ways to go about slave-play and it's up to BOTH you and your partner to decide: is your little helper very keen to bring you milk and cookies before you even realize you want them, or must they remain silent and motionless until instructed to do as you say?
3. The Naughty List
Do you think you know whether you're on the naughty or nice list? There's only one way to find out!
For this kinky role play, the submissive partner must list all the naughty things they've done this year to their Dom, who can accompany each confession with a light spank from a flogger. Afterward, it's up to them to decide whether they deserve a Christmas treat or not.
4. You've Caught the Gingerbread Man
This role play is greatly improved by a bit of sensory deprivation―ie a blindfold―as it relies on a lot of sensation play. To make it kinkier, you can also tie and gag your gingerbread man or lady.
Once blindfolded, you'll start with a sensual massage (like you're kneading gingerbread dough). You can use warming sensations from your toys placed in warm water to help heat things up, until delicately placing icing and other sweet treats on their body. It can take hours to make gingerbread cookies, so make sure you take your time before you put any in your mouth!
5. As Pretty as a Present
Ribbon can be used as a pretty introduction to bondage, but while it may not seem as extreme as rope, it comes with its own challenges.
Disposable gift-wrapping ribbon lets you make fabulous curls when tying up your submissive, but special attention needs to be paid when tying as it can easily cut off circulation, and your sub will also have to take care not to burst free from their bounds. Silk ribbon, particularly when it's wider, may feel luxurious against the skin and be more comfortable but will wrinkle when making knots so that may impact the look of repeat tying! Of course, while both types of ribbon are infinitely easier to cut a partner out of, they do not make for easy adjustment of knots, and will be more likely to cinch up; so keep the scissors handy and watch a few gift wrapping tutorials for help making the right type of knot!
[related_article id="301″ float="right" size="full" target="_blank"]