The majority of people meet their partners through friends, family, work, or social groups. But increasingly, we're meeting our partners online, due to having access to a high volume of people, being able to organise them easily, and communicate with them safely, at our own leisure.
Dating apps like Tinder have simplified the process even more, with long, detailed profiles being reduced to a handful of selfies and a couple of lines of text. From those old lonely-hearts profiles and videos, now the dating decision is reduced to a yes-or-no swipe.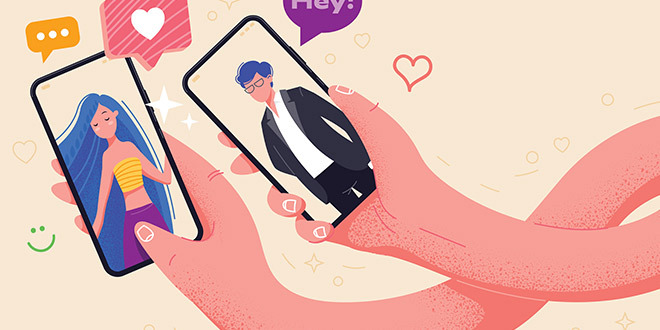 Obviously, this new age of dating is based on appearance and physical attraction. Lust, in short. But is it possible for that lust to turn into love, and a long-term relationship? Most of us these days know a couple who met on Tinder, after all.
A 2017 study conducted by Sumter, Vandenbosch and Loes asked Tinder users to answer 46 questions to better understand the social and psychological reasons for using Tinder, which resulted in six categories being identified, in order of importance:
The Thrill of Excitement

: It is exciting, and they get a kick out of using it.

Trendiness

: The app is new, cool, and everyone is using it.

Love

: Because it is an easy way to meet someone and to find a relationship.

Self-Worth Validation

: To feel attractive, get compliments, and improve self-esteem.

Casual Sex

: To talk about sex, exchange sexy pictures, and find a sex partner.

Ease of Communication

: Because it is easier to communicate, open up, and find friends.
Within the 'Love' category "to find a steady relationship" was the lowest rated reason people gave for using Tinder. The rest of the motivations in that category were worded more vaguely, asking about finding someone easily in general ("To find someone to be with," and "It is an easy way to meet someone") or finding romance ("To contact potential romantic partners," and "To find a romantic relationship").
Those who fell predominantly into the love category were the most likely to meet potential partners for real dates, compared with the 17% of respondents who said they'd had a one night-stand more likely to meet for casual sex alone. Users motivated by self-worth validation or ease of communication were the least likely to meet in person.
The way men and women interacted with the app varied too. Both reported that the excitement and trendiness of the app were their primary reasons for using it. But after that, women reported self-worth validation, followed by love, and men were motivated by casual sex, also followed by love.
Research as recent as 2019 identified even more patterns and reasons for using Tinder. For example, Tinder users are more likely to engage in reckless behaviour, like unprotected sex, than non-users. It also showed that active users felt less shame regarding various sex acts that traditionally were taboo. This made users more likely to engage in casual sex.
The research also suggests that Tinder strongly attracts less trustworthy and non-committal than non-users, and index higher Machiavellianism, narcissism, and psychopathy than non-users. What's more, 12.5% of respondents confessed to using Tinder to meet someone other than their partner, and 7% had cheated sexually on their partner with someone they met on Tinder. 
Swiping For Love
The results paint a cynical portrait of Tinder users as habitual cheaters and unsafe sex havers. But some of these respondents also reported being influenced by social media and instant gratification, making them more impulsive, less likely to be faithful and committed, and more interested in having sex for casual reasons. It's all these reasons that make Tinder an attractive option for those seeking lust and sex over commitment and faithfulness.
But that doesn't apply to everyone, and there plenty of users looking for something more substantial, and those seeking online validation, or simply company. So how do you tell these people apart and ensure you get whatever it is you're looking for from Tinder?
Well, asking outright before you commit to meeting is the simplest way. Asking a match directly what they're looking for reduces the chance of being disappointed. You've got nothing to lose at that stage, after all.
You can often glean an impression of what someone is about from the very first thing they say. Research shows that men seeking casual sex will use a more overtly sexual opening line, which turns off everyone except the intended kind of audience of sexually adventurous people.
Users seeking love will be more likely to engage in full conversations and meet someone for a non-sexual date. Therefore, building rapport and articulating clearly become more important. It helps stave off casual sex-seekers, as they are less likely to want to build any further relationship beyond sex.
To summarise, if you're looking for love, you're more likely to find it through conventional social groups and friends and family. But if you're direct and clear about what you want from the outset, there's no reason you can't find something special on Tinder.