It's easy to get stuck in a rut, even with something as pleasurable as masturbating. Many different parts come into play when it comes to self-love: we have our favorite types of porn, our favorite vibrator, and even our favorite time of day to do it.
If you find yourself looking for ways to spice up your self-love sessions, we have three illustrations showing you some fun new female masturbation positions to try getting your kicks in, as well as some alternative ways to enjoy the LELO sex toys you already own.
Standing On Your Own Two Feet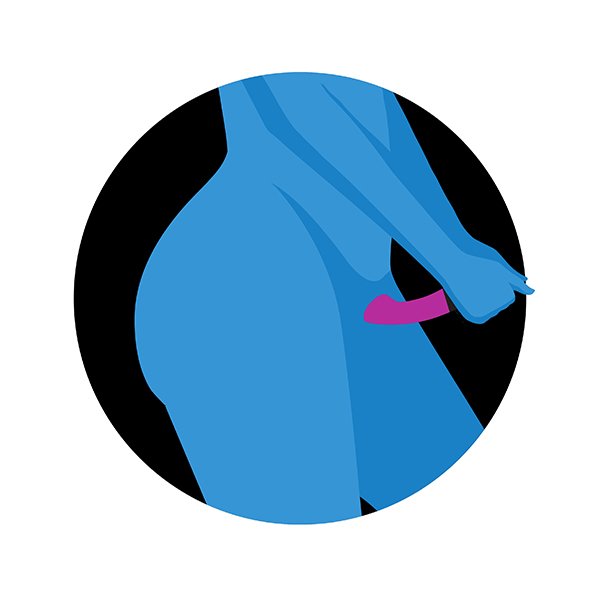 If you're a fan of standing-up sex positions—and we know that most of you are, judging by how popular our article on it is—why not trying masturbating that way? And no, not in a 'quickly trying to orgasm while letting your conditioner soak in because you need to leave for work in 20 minutes' sort of way.
Stand with your back against the wall and use your trusty GIGI 2 G-spot massager for one of its other fantastic functions—broad and intense clitoral stimulation. It's the perfect tool for taking your time to reach orgasm, especially if you normally favor a more pinpoint clitoral vibe like MIA 2. You can really explore the slight curves to the edge of GIGI 2's flattened surface.
We've also found that, should you have a counter or table of the right height, you can hold GIGI 2 in one hand (flattened tip facing up but titled to meet the crest of your vulva) and move your body against the vibrator rather than the other way around. It somehow feels like a much more interactive (rather than self-propelled) experience, which can heighten the sensation, but you can also play with the intensity by adjusting how close you hold your thighs together.
Try it in the Shower
Standing up is one of the best masturbation positions for solo sex in the shower. Lean against the shower wall with your back, let the steamy shower heat up the air around you, and show yourself some love. Bonus points if you have a removable shower head which will allow you to add extra stimulation.
You can alternate between your favorite LELO sex toys and a detachable shower head or mix the stimulations together for more pleasure. If you don't have the removable shower head and standing shower, don't worry – the tub faucet can do the job just fine.
Ask Your Partner to Watch
A great way to spice up your masturbation session is by asking your partner if they'd like to watch you pleasure yourself. They'll surely say yes and be flattered and aroused by the suggestion. And you'll get added pleasure from your partner watching you.
What's great with the standing masturbation position is that you can do it everywhere. It doesn't matter whether you're in the kitchen with your partner, in a shower, or in your bedroom. Lean against the wall, get your partner's attention and go to town.
Find Different Erogenous Zones
G-spot vibrators like GIGI 2 and MIA 2 are perfect for exploring your erogenous zones all over your body. You can adjust the strength of the vibrating toy and drag it along your most sensitive areas like your neck, breasts, belly, and inner thighs to turn yourself on.
After a bit of experimentation, you'll be able to find new sensitive areas on your body you enjoy stimulating. This new discovery can lead not only to better masturbation sessions but also to improved partnered sex.
Couples' Massagers Don't Always 'Kneed' to Be Used Together…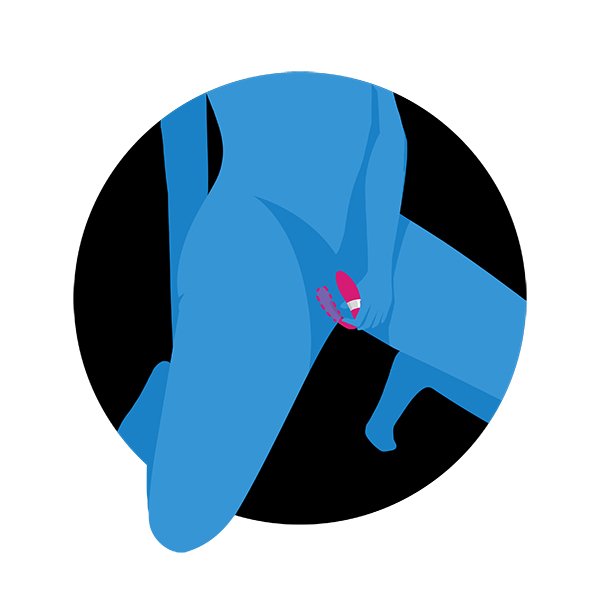 Our TIANI vibrators are some of the most popular couples' massagers available, and it's easy to see why. They're small enough to be unobtrusive during partnered penetrative sex, yet powerful enough to deliver some serious external simulation.
Kneeling while you masturbate can allow for a little more freedom of movement as you experiment with TIANI, and you can feel free to try using the larger bulbous end internally for some amazing G-spot stimulation— just make sure that the end is screwed on very tightly and cleaned properly after!
Get in Front of the Mirror
To make your self-pleasure sessions in this masturbation position even better, try kneeling in front of a mirror. Having partnered sex in front of the mirror is super hot. And seeing yourself alone indulging in some quality self-pleasure will be just as sexy. What do you know, maybe you're going to turn yourself on so hard that you'll never want to masturbate anywhere else but in front of the mirror?
Bounce
Sexual pleasure from masturbating on your knees is great. But if you're a fan of cowgirl sex position, then you might want to try getting into a squatting position and bouncing up and down.
This can be one of the best female masturbation positions, especially if you have a suction cup dildo to add to the mix that allows you to fully imagine riding a dick while indulging in some self-love.
While in a squatting position, you can easily stimulate your g-spot and clit at the same time. And internal stimulation of your vaginal canal mixed with the external stimulation of your clit can lead to mindblowing blended orgasms.
Lean Forward
We bet that doggy style is not one of the hot solo sex positions that first come to mind when you think about masturbation positions to experiment with. But while you're already on your knees, it might as well be worth giving a go.
So, lean forward, and use one hand to support your body weight while your other hand works on adding more friction and more pressure to your clit and vagina. If you have a suction cup dildo, you can attach it to the wall and bounce on it while in doggy style with your TIANI still in place.
We Go Way, Way Back
Does this look an awful lot like someone just enjoying their INA 2 rabbit massager as it's designed for use? While yes, it is fantastic to use the external arm against your clitoris and the internal arm against your G-spot, it's not the only way.
You've probably (hopefully) have heard that anal toys must have a flared base to be safe from accidentally getting stuck up somewhere you'd really rather it didn't. This is very much true! However, if one end of INA 2 is inserted anally, the joint between the two arms will act as a stopper in the same way.
If you're new to anal stimulation, you can lie back comfortably and experiment with this sensation using either arm, though the larger end may be easier to use just because it's firmer. If you're wondering what women without a prostate can get out of anal stimulation, it really comes down to personal preference, but many can feel the vibrations through the wall separating the rectal cavity and the vagina, as well as enjoy the 'fulfilling' feeling it gives. Paired with clitoral stimulation by vibe or hand, and you may find yourself having amazing blended orgasms!
One caveat is: if using any sort of toys for both anal and vaginal use, it's very important to clean them thoroughly when switching between orifices to prevent the spread of bacteria. To cut down on cleaning time, you can alternatively cover your toy with a condom!
Lying Face Down
When you're ready to switch things up, try flipping over on your belly and lying face down on your bed during solo play. Use your body weight to add more pressure and extra friction to your clit as you use your hips to grind on the toy.
If you're naked, then the feeling of your nipples rubbing against the sheets will also add extra stimulation to your already sensitive nerve endings. Be warned: a good orgasm is guaranteed in this masturbation position.
Add a Pillow
Another fantastic way to use INA 2 rabbit massager while laying down is by adding a pillow to the mix. There are two ways you can go about it.
First, place a pillow on your bed and lay your rabbit vibrating toy on the top. Then, lay down over the pillow so that the vibrating sleeve rests right over your clit and grind away to your orgasm.
The second way is to insert the insertable sleeve inside your vaginal canal, let the external sleeve rest on your clit, and lay down on the pillow so that your hips rest on top of it. Then, enjoy the penetrative stimulation while grinding on the pillow for added friction over your clit.
Engage Your Pelvic Floor Muscles
When you're using a rabbit vibrator like INA 2, don't forget to engage your pelvic floor muscles for most sexual pleasure. As you're moving the toy in and out, try engaging your muscles as you would during the Kegel exercises by squeezing and releasing them.
Performing this action will add extra friction during vaginal penetration, and that added stimulation will surely add to the pleasure and get you closer to the mindblowing orgasms of your dreams.
Why Not Add a Butt Plug?
If you're not sure about using your favorite rabbit vibrator for anal play, then start by incorporating a butt plug first. You can either go for a regular butt plug (make sure it has a flared base) or opt for a vibrating butt plug that imitates the sensation of rimming for added sensations.
You'll get the benefit of triple stimulation – your clit, g-spot, and anus will be stimulated at the same time, leading to some crazy sensations down there. Blended orgasms for the win!
Conclusion
Just as there's no one 'right' way to masturbate (and trust us, we've learned about some pretty unusual methods of masturbation) the above isn't going to be equally loved by everybody. You may go right back to enjoying your LELO the way you did before, but hey, there's no harm in trying!