You've danced around it before, but you and your partner have finally decided to make the fantasy a reality: you're going to have a threesome.
Congratulations! Threesomes are a common fantasy, and can be an extremely positive and exciting introduction to your bedroom. But how will you find the perfect third? Your dirty-talk scenario of seducing someone in French over martinis may not be the most realistic, so now what? Should it be a close friend, or a stranger? Should you hire a professional?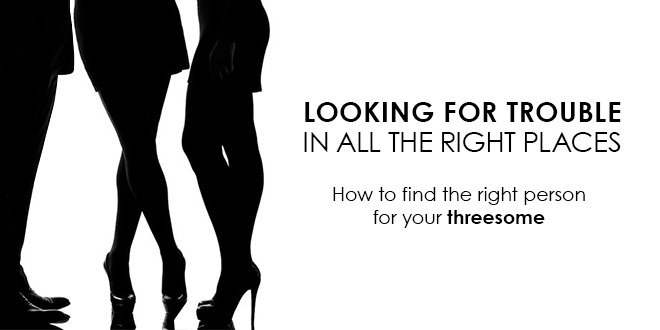 Well let's dive in and explore the options. You've already discussed the specifics of what you both want, both in terms of gender and interactions that you're ok with between all parties… right?
Ménage a Talk
It doesn't matter if you long to be ravished by two men, or to explore your bicuriosity; it is important you and your partner are on the same page about expectations to avoid uncomfortable surprises and hurt feelings during the act. Decide on a signal or word for slowing down or stopping if either of you aren't feeling comfortable. Some couples may love group play, but have certain acts that will stay off the menu with their thirds.
Alternatively, you or your partner may start with certain restrictions, but become comfortable with different acts over time. In either case, it is important to be respectful of your partner's wishes and to involve each other in these decisions. Badgering them to do something they aren't okay with will not make for a very sexy experience!
Friends With Benefits?
Alright, so you've had sorted out what kind of threesome you want to have and you're both still as eager as ever. What kind of relationship do you want with your third? Will you feel more comfortable with someone you already know and trust, or will it cause awkwardness? Just as bringing up a threesome with your significant other risks changing the relationship, the same can go for friends. Try and think about past conversations you've had about sex and whether they've ever expressed in interest in swinging, or open relationships, for example? Are they likely to end your friendship if they're not interested?
On the other hand, many first-timers prefer to bring in someone new so they don't ever have to see them again. Sounds good, but how do you find a stranger who is interested, never mind one you find attractive?
A Stranger's Just a Friend You've Never Met
We cannot stress enough: please don't be that couple lurking in a lesbian bar and propositioning everyone who walks by. Unicorns, or bi women who want to play with couples, are called that for a reason!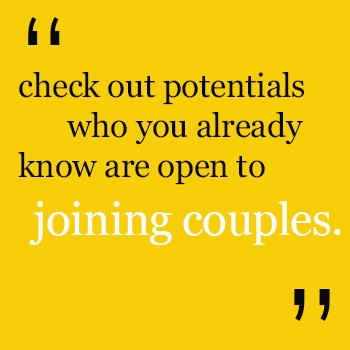 Rather than trawling the bar scene (although, if you do meet someone there, by all means, play ball!) it is easier to screen people on dating websites or those catering to the fetish community. This allows you to check out potentials who you already know are open to joining couples. Be aware that community sites, such as Fetlife, are not the same as dating sites and are not necessarily designed for quickly browsing profiles for hookups.   They require a bit more searching for and participation in discussion groups, but are, however, a good option if you wish to avoid the membership fees associated with adult dating websites. While many advertise themselves as free to try, be prepared to have limited access to features without a membership.
Hook, Line & Swinger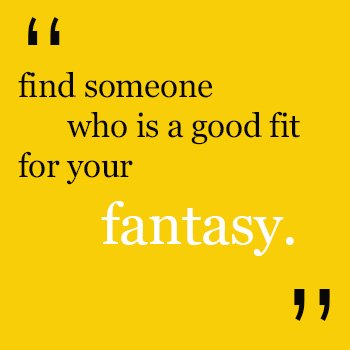 Once you've found someone who's interested, it's up to all of you to decide how well you want to get to know each other. Remember, your third is a person, not a toy! Your first concern might be the pleasure of your significant other, but be sure to include your third in the conversation to find out what they want and expect from the encounter. Remember figuring out desired acts and signals with your partner? Keep your third in the loop! It may take a while (even months) to find someone who is a good fit for your fantasy, but don't get discouraged. Finding someone for a threesome should be a fun process you enjoy with your partner; think more flirty first date and less job interview. Who knows, you might want to start seeing this person regularly!
If you're looking for someone experienced in the dynamics of playing with a couple, another option is hiring a professional. Now, just because they are a sex worker, do not assume that they will take charge (unless that's what you're looking for!) This is about what you and your partner want, so you should tell them everything you've discussed. Websites catering to the polyamorous or swinger community may have recommendations specific to your area.
[related_article id="5351″ size="full" target="_blank"]