We followed up with Megan Barton-Hanson to see what she's been up to since we last spoke. Here's the update on her recent orbit around the sun, future adventures, and sex advice for anyone.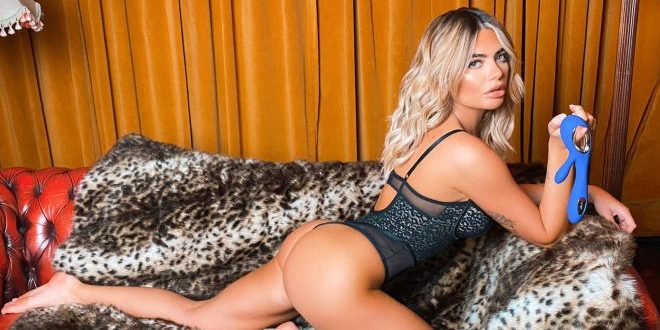 First of all, happy belated 27th birthday! We're happy to see Post Malone (even the cardboard version) made it to your party. How did you end up celebrating?
So, I had a shoot day on my birthday – the thought of being alone and turning 27 wasn't a vibe! We made some ratchet cake smash vid for my Only Fans content.
Last time we spoke to you, you mentioned that being outdoors is one of your secret passions. Were you able to explore any new places during the pandemic?
I love getting outside, the sunshine really boosts my mood. I've been trying to stick to the government guidelines so I haven't been abroad, but I'm lucky enough to live by the seaside so… I love walks by the coast.
Have you tried any recent Tik Tok recipes?
No I haven't! I'm such a grandma when it comes to TikTok – I really need to learn how to use it!
We love that you're a proud Pisces. How do you think being a Pisces affects your sex life?
Being a Pisces, we love to day dream so I'm always thinking up ways to spice things up in the bedroom and scenarios I want to create with a partner. We are very sensitive though, so I need a lot of affection and passion from a partner too.
You've mentioned on your IG that advocating for equality requires supporting other peoples' life choices even if you wouldn't do the same. Why do you think that women are quick to judge one another instead of being each others' cheerleaders?
I think it's internalised misogyny. A lot of women have this and I must say it's not always their fault. For example, there are girls that say thing like "I'm not like other girls" – what does that mean? Are other girls not gorgeous, amazing and strong people? It seems like they are trying to appeal to males by putting other women down, and they seem to see other girls as competition rather than a community! We really need to start supporting each other no matter what we want to do. Feminism is supporting other women to do what the hell they want with their bodies!
Communication is an underlying theme to your advice both inside and outside the bedroom. What advice do you have for developing better communication skills?
Work on the relationship with yourself! When you love yourself and make your own happiness a priority (as opposed to consistently trying to please others) you will be able to communicate what works for you in and out of the bedroom clearly and with confidence.
Do you think it's helpful or harmful to have a filter?
I think it's good to a have a filter when speaking. You can still get your point across but in a kind way, there's nothing more attractive in my option than a kind person.
What tips would you give someone trying to introduce sex toys into partnered sex?
Some partners feel like a toy means they aren't fulfilling your needs, but, really, it can be an added bonus to hopefully an already great sex life! I would send links to your partner of toys you want to explore, and suggest how you would use the toy together. For example, when going down on a partner, a toy like the Sila can be held between your thighs comfortably and be a perfect addition to the vibe!
Congratulations on the success of your You Come First podcast. Have you had any difficult topics to discuss on the show?
Thank you! Yes, most topics I cover on the podcast are pretty deep in some respect or deemed as taboo. I'm brutally honest and love speaking about things no one ever spoke about when I was growing up. I think open conversation can help people in all areas of life! I wanted You Come First to be funny and entertaining but always a safe space where nothing is off limits.
When do you feel most sexy?
When my mental health is at its peak and I'm meditating regularly! Whilst manifesting and taking care of my body, eating good food and exercising! Self-love is sexy and helps you connect to your body on a deeper level.
If you could be born into any era, which one would it be?
I'd love to be born in the 70s purely for the outfits! I also love a disco track – I would be queen of the dance floor.
If you could be one cocktail, what would it be?
A Cosmopolitan –  sweet but strong!
You said that if you didn't have your current career, you could see yourself on the other side of the camera. Is that something you have planned?
No, that's not planned but my therapist suggesting training as a sex therapist – I think I'd really enjoy that! Watch this space.
What's remaining on your bucket list?
I really want to travel more. This last year has been so difficult staying at home as I really want to see more of this beautiful planet. I'd love to work more closely with protecting animals. Hopefully one day I'll be able to cuddle a sloth!