There's more to reality TV star Megan Barton Hanson than meets the eye! We reached out to her to discuss what she's learned through sex work, where her journey is taking her next, and how living in the intense public eye offers her a platform to discuss taboo topics that won't go unsilenced. We also threw in some fun Qs—read on!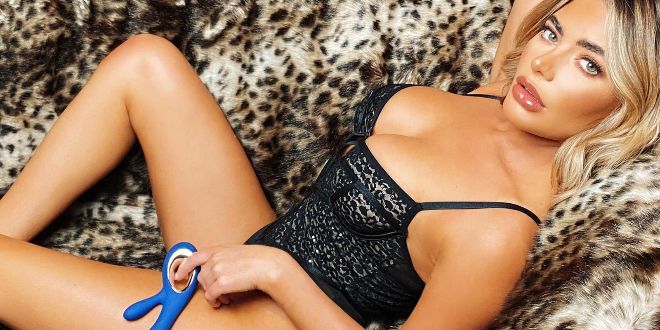 Q: What do you consider to be your biggest personal and professional achievements?
I've recently started a podcast called You Come First, and it's doing so well – it's even reached #2 in the UK Podcast charts. I'm so proud to be talking about subjects many see as taboo and it's still so popular.
Q: Describe yourself using 3 adjectives.
Sincere, passionate, and a (little bit) wild.
Q: What does a typical day of work look like for you?
Wake up, COFFEE, work out, emails and work until about 6/7pm, then I chill. I cook some dinner, listen to music or read a book.  I'm loving Untamed by Glennon Doyle – it is a self-help book combined with a lesbian love story! Perfect…
Q: You've been open about joining the Only Fans community. What does this platform offer that others don't?
I love OnlyFans as it allows the user to have full control, from what content they put out to how much they charge, to what level of nudity they are comfortable shooting to! It's great – it really puts the power back into the hands of sex workers.
Q: Did you learn any life lessons through stripping? If so, what are they?
It changed me as a person. I had to grow up quickly – you're surrounded by drunk people, half-naked. Firstly, you've always got to be careful and have your wits about you. But the most valuable thing is confidence. I was so shy before and just hungry for money, but I came out of stripping with much more than money! I felt like for someone like me, so painfully shy, if I could strip and walk into a strip climb and ask for a job, I could do anything. Since that risk, I've always pushed myself—I believe it's the only way you grow as a person.
Q: Were there any times in your career that you felt like you "messed up"? If so, how did you bounce back?
Yeah. After exiting Love Island I had a really public breakup and I went on another dating show straight after. In hind-sight, I just wasn't ready. It wasn't fair on me or the people I dated on the show. I was emotionally unavailable and just not in a good place. I think time is a healer and I don't look back. I haven't watched that show back as it's not a true reflection of me when I'm happy, so I just learned from it and moved on.
Q: Do you separate your work life from your home life? If so, how?
I guess coming from a reality TV background it's hard because a lot of the shows I do and interviews I do are all about my home life and the real me (I'm too honest for my own good sometimes), but I would say my Instagram feed and Only Fans account are a more 'boujee', sassy version of me or me on my best days. Instagram stories is where you see the real Megan.
Q: What's the most rewarding part of your job, and how do you define success?
For me it's the talks I do or when I have someone come up to me in the street and say "I love it when you speak on…" or I get a direct message saying "thank you for speaking on…, it's given me confidence to…" For me, that's so fulfilling. I learned to not define success on how much you earn a long time ago—it's what makes you feel complete and content at night. I feel like I've found my passion, to speak openly and honestly and to use my platform to educate and liberate women.
Q: Have you had any "holy shit, I've made it" moments?
Erm when I met Post Malone at Reading Festival, I nearly had a cardiac arrest. I went to the BAFTAs and the London Fashion Awards in 2019 too, they were real "pinch me" moments!
Q: What's the best advice someone has ever given you?
My mum is my best friend, I'm so lucky to have such a strong bond with her. She's always taught me to be kind, but brutally honest. To not hide how you feel and sugar coat things but just say it in a nice way… Too many people are afraid to be kind in fear of looking weak. I think it's super attractive.
Q: Do you have any advice for young women in regards to their sexuality? 
Don't rush to label yourself! I find labels are more for other people's benefit. Don't overthink your sexuality, everyone's journey is different. If you feel like you can't come out to your family or friends just yet, make sure you find yourself an LGBTQ+ community on social media or in person.
Q: Do you have any tips for discussing sexual needs with a partner?
Don't be shy! The most attractive thing is confidence and communication is so important. If you do get shy or awkward, maybe flirty texting is a good way to communicate what you want to try later in the bedroom. If you're feeling a little braver when you're both relaxed and chilled, initiate the conversation and suggest things you would like to try. Then ask your partner—maybe they have things on their bucket list you never would have thought of.
Q: What song comes to mind first when describing your sex life?
Single ladies – Beyoncé. Covid has done me dirty! Thank God for LELO toys, that's all I can say.
Q: If you could sit down for dinner with any 3 celebrities, who would they be?
Post Malone, Amber Rose and Margot Robbie.
Q: Do you have any random passions people probably don't know about?
I love being outdoors. I'm a bit of a tomboy at times. This year has been so strange, but I discovered my love for being outside when I went on my first camping trip with friends. I loved making the fire up and just having deep conversation with friends without distractions.
Q: When you were younger, what did you want to be when you grew up?
I wanted to be an air hostess! They always looked so glamorous, I think it was just the red lipstick in hindsight! Stripping definitely suited me better.
Q: If you could hire any actor to play yourself in a biographical film, who would you pick?
We look nothing alike but I'm obsessed with Natasha Lyonne!
Q: What job do you think you'd be really good at if you weren't pursuing your current career?
I think I would have loved to have been in tv but on the other side of the camera, like a producer or something. It looks so fun!