With the potential to increase the size and intensity of the male climax by 33%, HUGO is a remote control prostate massager that offers the world's most explosive orgasm. But just take our word for it – check out these rave reviews!
REVIEW: the LELO Hugo with Wireless Remote. 100% Awesome!
"If I could sum up the Lelo Hugo in just a few words, it would go something like this: Whoa! This toy just ROCKED my world!
Being able to control the vibrator while reading a book or watching TV is a magical feeling. I can now truly relax, and really get into my play time. I kinda did that before, but never to this degree. It's fucking awesome.
No more reaching around between my legs, fumbling with the controls, and possibly getting some messy lube on my fingers. Now, I just lube up, pop it in and turn it on. I then have the option to wash my hands and have the freedom to do whatever I want."
Read more of MR. RACY's review!
LELO HUGO Prostate Massager
"Obviously the Lelo Hugo is a quality prostate massager, but is that all? Well, of course not. It isn't just some silicon stick you shove up your ass when you're in the mood; it's a luxurious battery powered sex toy that is made for manual or partnered play, and it is comprised of some pretty neat technology."
Read more of MEN'S TOYS HUB's review!
LELO HUGO Review
"I personally really liked the couple of "pulse" vibration settings on this toy. I found that these settings, with mid-level vibration strengths, were really effective for sending P-waves throughout my body. As soon as I can feel pleasure radiating down toward my legs, I know that I'm onto a winner. Thankfully, it didn't take me long to get that feeling!
With many prostate massagers, you have to mess about changing positions and trying different things before you get results. I didn't have that problem with the Lelo Hugo! It felt perfect within a couple of minutes. If you played your cards right, you can achieve a hands free prostate orgasm with this thing."
Read more of SEX TOY COLLECTIVE's review!
LELO HUGO Remote Controlled Prostate Massager
"Even on it's lowest speed, it's got a decent rumble and a good amount of power – enough to have you sit up and say "Oh, hello…!".
Speaking of which, sitting up on the HUGO is easy and comfortable. It's been designed to fit within the natural contours of the body, so you can sit and rock on the HUGO without it feeling uncomfortable.
It's definitely got more power too it, and the secondary motor provides the extra stimulation I need to take me over the edge. The remote is definitely a very welcome addition and offers some exciting new ways to play, especially with a partner."
Read more of THE BIG GAY REVIEW's review!
Lelo Hugo Review
"The manufacturer's used the materials for the remote as well. However, the remote is not just a remote. It actually works as an external vibrator. It is capable to produce the same vibration patterns as the main device. You can use it to stimulate your prostate externally to increase the pleasure. Or, you can use it to stimulate your female partner's clitoris.
Another fun feature you will discover on Hugo – SenseMotion technology. Simply by shaking and moving the remote control you can increase and decrease the vibration levels on the prostate stimulator."
Read more of MALESEXTOYS' review!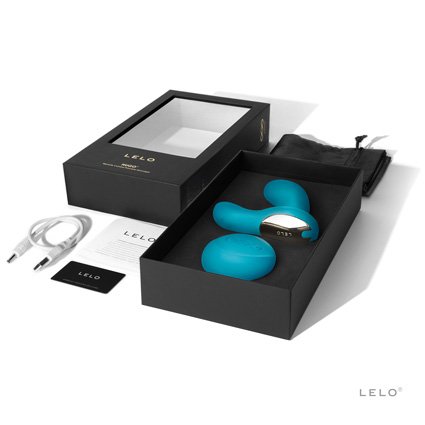 The Lelo Hugo Review: A New Way to Think of Male Pleasure
"The orgasms I've experienced using this toy are breathtaking. Literally. And while I have no idea how long the orgasm actually lasted for, it was a WORLD of pleasure – like I was suspended in time.
If you're using it with a PARTNER, then just WOW… I can't even begin to describe how much elevates EVERYTHING. PLUS, it's got a wireless remote control, so you don't have to worry about fidgeting with the device once it's inserted – AND your partner can control your experience if they're (and you're) so keen to do so."
Read more of BEST BLOWJOB MACHINES' review!
HUGO by LELO – A Review by Jamesey
"Is it possible to love a sex toy?  I can't even pretend I'm asking for a friend, because I honestly think I've fallen head over heels for the Hugo.  I want us to have a winter wedding and live in a little log cabin somewhere.
I've used prostate toys in the past that have been good, but Hugo was beyond good. In the first play I never actually made it past setting three. I can, hand on heart say that Hugo has given me my first ever prostate orgasm."
Read more of NICE 'N' NAUGHTY's review!
Customer Reviews
Check out more Bazaarvoice authenticated LELO reviews, supported by anti-fraud technology and human analysis.
Winner ★★★★★
Solid performer across all settings and remote control is responsive and reliable. Find your fun setting and enjoy.
Posted by: Southshorecouple0720
Great for the newbie! ★★★★★
I purchased this at the recommendation of the YouTube therapist Caitlin V. I am new to the exploration of prostate massage/play. So I took the chance. Well worth the purchase. The texture is a smooth that is indescribable to me! It is comfortable and easy to use which is good for the beginner. My wife enjoyed the ability to control the pulsation with the remote which added to the fun. I look forward to much more fun with this toy!!
Posted by: DL69
Amazing ★★★★
Takes me to a whole new level! Body shaking orgasms!
Posted by: Bambi
How To Use HUGO