Been dabbling with the idea of prostate play or ready to upgrade from a finger to a thoughtfully sculpted massager? The LELO LOKI prastate massager is designed to give you mind-blowingly intense orgasms with its curvature and pin-point stimulation precision. Besides the aesthetic beauty, it offers 3.9in (100mm) of insertable length with 6 insanely powerful vibration settings.
REVIEW: the LELO LOKI. Everything A Luxury Massager Should Be
"Before I even had a chance to run the LELO LOKI through the gauntlet, I was VERY impressed with this new anal toy for men. From the initial presentation in the windowed box, all the way to the prostate trembling orgasm grand finale, I loved this toy. Every step of the way…
My first time with this bad ass toy was a rare moment: I had a ginormous prostate O the very first time I used it! An impressive feat, to say the least."
Read more of MR. RACY's review!
LELO LOKI Prostate Massager Review
"Once the LELO LOKI Prostate Massager finally was in position, he really enjoyed the prostate massage. Whether I played with him, operating the buttons and adding extra stimulation in a variety of ways (use your imagination), it was easy to change modes and speed of the vibration. There was no risk felt at any time that LOKI would slip in too far, thanks to the prominent ridge.
It's a fun toy for me to use on him, as then I can hold the handle, thrust it and change the vibration speed and mode.
LELO LOKI is still a beautiful and powerful prostate massager which is sure to first entice many men to experience its charms and then convert them into lifelong prostate massage and LELO addicts. The range of options, vibrating power, ease of use, waterproof and rechargeable capabilities as well as a truly ergonomic design tells us that LELO have put a great deal of care and attention into LOKI's creation[.]"
Read more of CARA SUTRA's review!
Lelo Loki Prostate Massager
"When it does come to inserting the Loki it's a nice smooth affair. The size clearly makes it less beginner-friendly than the Billy, but the gentle taper helps to ease that bulbous shaft into the body, and the smooth plush silicone feels lovely against the skin. Inside the body the Loki feels pleasantly filling; it's not the biggest toy in the world but you can really feel its presence, especially with the way that it angles itself into the prostate and applies a gentle pressure."
Read more of THE P-SPOT's review!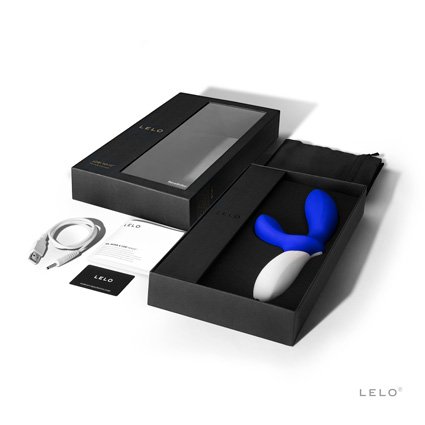 LELO LOKI Prostate Massager
"The LOKI is covered in LELO's soft, sensual silicone that doesn't attract as much dust as other silicones. It's completely waterproof and features a moderate sized insertable shaft which has a curve designed for maximum prostate stimulation. It has an insertable length of 4.5 inches and an average circumference of 4.5 inches – making this fairly accessible to almost anyone. It's tapered tip is perfectly suited to ease you in gently.
I was soon reaching to increase the speed – I am an absolute power-queen – i'm not going to lie, so I basically pushed it all the way up to the top. It felt incredible and with a slightly flex of the LOKI using the handle to push it closer to my prostate, it sent wave after wave of tingles coursing through my entire lower extremities."
Read more of THE BIG GAY REVIEWS' review!
LELO LOKI Review
"To tell you the truth, I could write a separate article about LOKI vibrations. Since you have six different modes with different intensities, there is a lot to explore. I enjoy playing a mix and match game, so I kept on switching the vibration patterns. I would't recommend to start from very intense vibrations. From my experience, it's always better to built up the experience.
I can assure you, that LELO LOKI is big and powerful enough to satisfy even the veterans of sex toys. If you ask me for recommendations, once you get familiar with LOKI – go for the random mode."
Read more of MALESEXTOYS' review!
Lelo Loki – Male Sex Toy Review
"The Loki starts with on a continuous vibrate setting with a gentle but still rather rumbly feel to it and I found that increasing the power was simple with the buttons as it was way too gentle for me. Quickly though I found about 75% spot that was pretty much perfect and those vibrations were felt strong and deep which I loved.
Obviously for the sake of science I had to try again…and again…and again and so forth just to make sure it wasn't a fluke and I wasn't just particularly horny each time I needed to just double check it was that good."
Read more of  JUSTINDECEROUS' review!
Loki Vibrating prostate massager by LELO
"The Loki offers adequate size so you know its there, directed vibrations that put the vibrations on your prostate, and ability to adjust the toy to adjust the pressure on the prostate. The toy also works as a vibrating anal probe that we use to help warm my girlfriend up for anal sex."
Read more of  EDEN FANTASYS' review!
Customer Reviews
Check out more Bazaarvoice authenticated LELO reviews, supported by anti-fraud technology and human analysis.
Earthquake machine ★★★★★
A little thick, but dang does it feel good! Intense vibrations, and an orgasm that had me washing my face!!
Posted by: Hit_my_face
Excellent Vibrations ★★★★★
I've had this for a couple of weeks now and love it! I've tried several other prostate toys but nothing comes close to the waves of pleasure I get from this toy. It doesn't quite get me fully there but it makes the entire experience way more intense for me and my girlfriend.
Posted by: hansolo1903
Was not ready ★★★★
This device is borderline a work of art. The feel, design shape just fits so well. But the best parts are the settings. Settings 1-5 remind u of a phone set to vibe. Settings 5+ register on the rickter scale. And the patterns can be gentle or super aggressive so it'll bring u to ur knees… In a good way.
Posted by: Fyero