As an advocate for a sex-positive lifestyle, LELO is all for sexting as it liberates even the shiest of us and allows us to express things we might not say face-to-face to another person. There is nothing like the right emoji or combo of emojis to elevate "wyd" to "U up?", and yet, there is no pictogram dedicated to sex. Those engaging in sexting have to use many substitutes, ranging from the usual fruits and vegetables to some of the less obvious ones, like the rooster or oyster.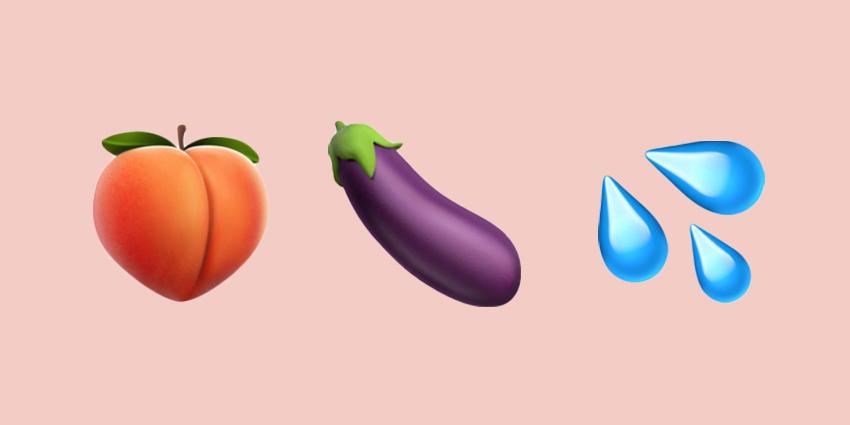 In light of this, LELO submitted its application to introduce the first official #sexemoji to Unicode, the company behind emojis. As emojis are an integral part of how people connect, we believe that the creation of such an emoji will usher in a new era of communication about sex, further break the stigma surrounding the talk of sex online and help even more people be increasingly satisfied with their sex life. Simultaneously, we've launched a petition via change.org asking the public to rally behind this cause.
The new normal communication
What originally started as a small, pixelated icon has now become a part of modern culture, a universal language understood by the majority and favorite foreplay for many. Don't believe us? Well, the figures are not lying. There are now more than 3,100 different emojis, and in 2021 the number will rise to 3,300+. Five billion emojis are used daily on Facebook, and an estimated ten billion in total are used every day. According to Emojipedia, the most popular one is the loudly crying face. Also, a staggering 95% of internet users have used emojis in their communication. The popularity of emojis is such that they are even used outside their original meanings associated with particular symbols to cover the ideas that have not yet received their own separate visual representation.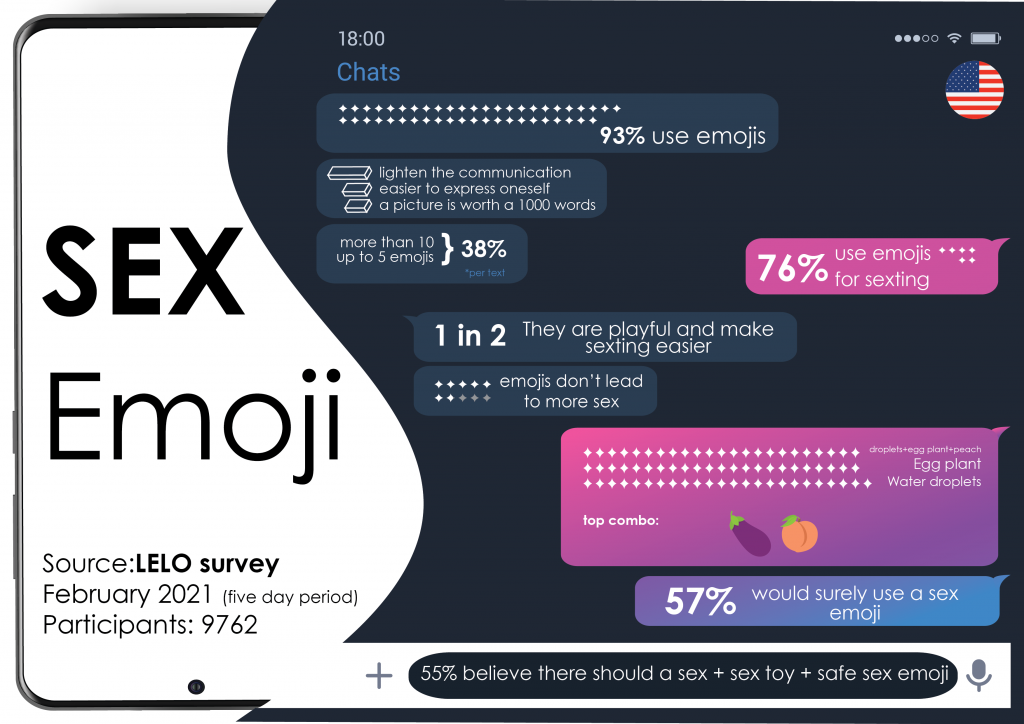 With that in mind, LELO surveyed communication habits with a particular focus on the use of emojis for sexting. The survey that included ten thousand people revealed emojis had become an essential part of our day-to-day conversations, with:
76% of respondents say that they use emojis when communicating about sex

.

Half of those participating in the survey use emojis regularly

, but not necessarily every time they sext.

Most people use emojis because they are playful (71.5%), and yet, almost 17% of those involved in the survey do not use them at all. 

Emojis used for sexting are famous for their double entendres, the most popular ones being water droplets, peach and banana.

But they also challenge people's creativity as icon combos sometimes include those that aren't overtly sexy on their own, like the baby milk bottle or the chili pepper.

When asked how likely they are to support the creation of the sex emoji,

86% said they would be happy to support LELO's application for the creation of a sex emoji, and 54% agree that alongside sex emoji, there should also be an emoji for safe sex and sex toys.

To begin with. All of those would use the sex emoji in their communication.

As far as the design goes, the prevailing opinion is that the sex emoji should hint at sex, with 29% believing it should portray sex and 8% believing it should be abstract. 
As communication relies primarily on texting due to the speed with which we can convey our message and the number of people we can reach by it, emojis are used to shorten the way we communicate through our devices. Much like the advent of emojis at the beginning of the decade, the changes and challenges of 2020 ushered in a fundamental shift in people's lives. With the pandemic making us stay at home for the greater part of last year and the beginning of this year, even more people's day-to-day activity made its way online, and many people turned to online spaces to conduct their relationships. "For the sexual wellness industry, the first lockdown of 2020 completely normalized the discourse on sexual pleasure in the mainstream media, and it was proven as a key part of human wellbeing," says LELO CMO Luka Matutinović. 
"And the ability to talk about sexuality in every medium is essential when it comes to personal wellbeing. This prompted LELO to submit an official application to Unicode to create the first official sex emoji. With sex now being a regular feature in the media, it seems that the time has also come to have the sex emoji. And as an industry leader, we see it as our responsibility to spearhead this cause for the entire industry and general public. We see this emoji's creation as gearing towards free sexual expression on all channels and post without fear of censorship on social media. Having a pictogram depicting sex, safe sex, and even sex toys will therefore be the next milestone in fully liberating the discourse on sex," adds Matutinović.